Connect, Reach, Increase, Convert.
Connect with your customers, Reach a more targeted audience, Increase brand awareness, Convert leads to sales. Contact GLC today, the leading social media marketing agency in Delhi, for your requirement.

Get a Free Consultation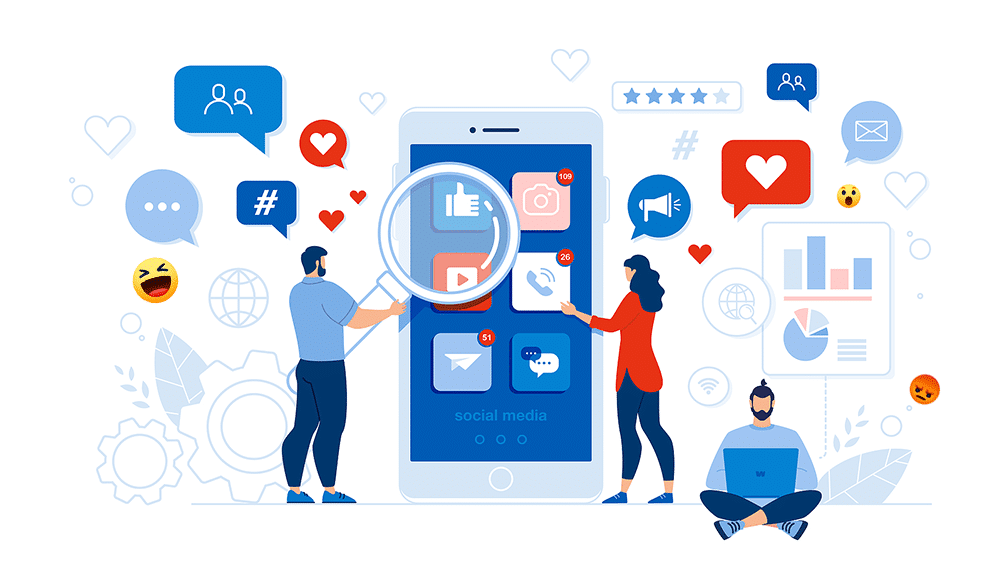 RESULT ORIENTED
Social Media Marketing Company In Delhi
How Social Media Agency will Help Your Business Grow?
Interact and connect with your target audience through social media. Increase brand awareness, and audience engagement and build strong relationships with your potential customers through Facebook, Instagram, Twitter, LinkedIn, etc.
How We Work On Your Social Media Plan?
We start our work by understanding the current status of the social media efforts, a thorough industry and competitor analysis, followed by the creation of a consumer persona & planning document for content creation.
The content calendar is then shared with the client and this document details the content topics for the month. After getting the client's approval the content is then developed followed by graphic designing work.
We identify the social media platforms that are best suited for customers' business & content is posted as per the calendar. Relevant hashtags are attached that help amplify the content's reach. We also share this content in several online groups & communities to drive reach and engagement.
Benefits of Hiring a Social Media Marketing Company
Hiring Experienced Professionals
You get to work with a highly professional & experienced team at the agency who have years of experience under their belt. This ensures that your brand gets the social media inputs that it needs.
You Get to Focus on your Business.
The social media agency takes the hassle of managing social media away from you. This free's up a lot of time to focus on your core business activities knowing fully well that your brand is in safe hands.
Huge Savings
Imagine if you were to hire all professionals full-time for your business- a social media manager, content writer, graphic designer, etc. The amount that you pay for your monthly package is a fraction of the employee's costs that you would have had to bear if you had these people working as full-time employees.
Focussed Efforts
Having a social media agency work for you ensures that you have the right strategy and plan for your brand in place and it is executed flawlessly. Continuous oversight of professional managers at the agency ensures that all slips up are rectified so that your brand continues to grow.
Reporting & Feedback
Agency will provide you with reports and updates from time to time and that makes it easier for you to keep track of the progress.
Social Media Marketing Platforms
Facebook
Data show that almost 1.8 billion users use Facebook on daily basis. That makes Meta the best social media marketing platform for every business to generate targeted leads and sales.
Instagram
About 500 million users access Instagram daily globally. Small businesses can interact with their followers while marketing their products/services. It is particularly effective with the younger audience who relate more to visual platforms like Instagram.
Twitter
Twitter has an advertising audience of about 353 million users. This is a platform popular with celebrities, politicians, sports personalities & top corporate honchos. Twitter is an effective medium to market B2B and some B2C products as well.
Pinterest
As a marketing expert, stats show that about 200 million people can be reached on Pinterest. Pins can also link back to websites; hence Pinterest is the best platform to engage large audiences & increase sales.
LinkedIn
About 96% of B2B content marketers use LinkedIn for organic social marketing. LinkedIn will help to build & grow your brand, make new connections, generate leads, and foster business relationships.
YouTube
Data show that about 70% of viewers bought from a brand after seeing it on YouTube. This powerful tool makes it easier to promote your product or services, engage customers and make your brand a success.
Do you want to grow your brand on social media?